When it comes to cricket, you cannot talk about the sport without talking about who holds the records in the game. The game of cricket is one of tradition and innovation where records are broken almost every time it is played. Cricket batting rules have improved over time, making record-breaking easier than ever before. With increasing technology and advancements in bats, there are more and more batting records being set every year by players. During this new era, cricketers' passion for cricket grows even stronger, as does their love for breaking batting records.
Cricket has always been one of the most exciting sports to watch compared to baseball and other sports. One exciting facet of cricket is the records set over time. Either teams or individuals achieve these records. ODI cricket is one of the shorter formats of cricket sport played with 50 over each side. Here we discuss some ODI cricket batting records and who made the first double century in ODI and who made a double century in ODI cricket.
Batting Records In Cricket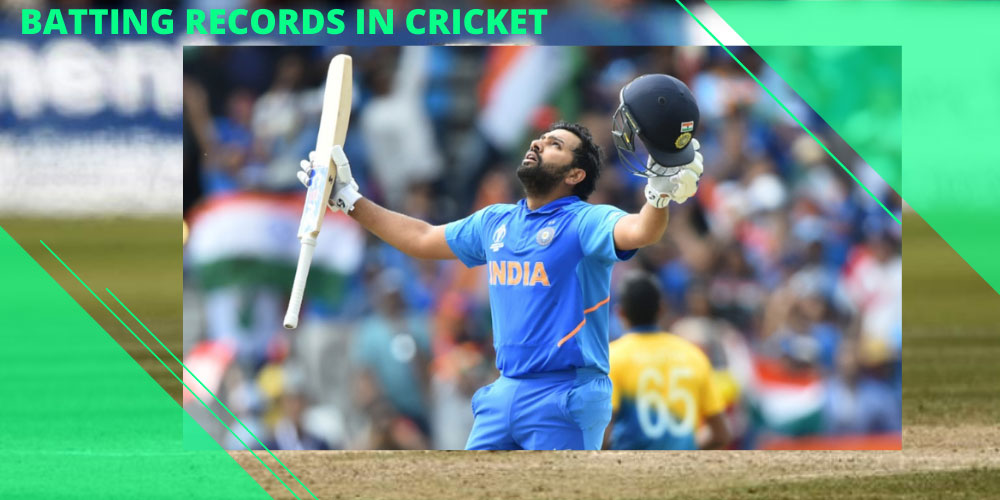 There is a batting power play in the first ten overs where many batsmen score many runs because only two players are outside of a 30-yard circle. In this period, they make a lot of runs through boundaries. With the change in technology and bats, many batsmen scored a double century in an innings in ODI cricket. But many cricket fans do not know about the cricketer who scored the first double century in the one-day cricket match. Below are details about the cricketer who scored a double century but first start with the cricketer who scored the first double century in men's ODI cricket.
Sachin Ramesh Tendulkar
Sachin Tendulkar played for the Indian cricket team and made numerous batting records in his cricket career, including being the first player who scored a double century in ODI cricket. Also, he is the first and last batsman who scored hundred centuries till now. Sachin Tendulkar debuted in international cricket at 16 against Pakistan on Nov 15, 1989. In his cricketing career, He scored many centuries in winning cause, and he was also rewarded by the man of the match in ODI cricket many times. He played 463 ODI matches for India and scored 49 hundred 96 fifties. This is the record in ODI cricket amongst all the batsmen till now.
Sachin Tendulkar is called the perennial legend of Indian cricket. On 24, 2010, in Gwalior against South Africa, Sachin Tendulkar became the first men's cricketer who scored a double century. He played against the quality bowling side in this match, which has great bowlers like Dale Steyn, Jacque Kallis, and Wayne Parnell. He took 147 balls to reach the 200 runs at 36. In that match, he played brilliant innings, including 25 boundaries and three sixes. He reached two hundred runs in the third ball of the final over.
Other Batting Records
Cricket is the most popular sport in several countries, with billions of fans across the globe. The laws of ICC govern the sport, and hence it is played under a set of rules. Cricket enthusiasts are passionate about their favorite players and teams and follow them regularly. One of the most important records for any cricket player is to attain international ODI batting records.
International ODI cricket batting records are achieved in One-Day Internationals, including highest individual score, highest centuries, fastest ODI hundred. Many great players have established their names as some of the best batsmen to ever play this game, with some already being immortalized in history books of cricket sport. Here are some players who hold major batting records in ODI cricket.
Rohit Sharma. Rohit Sharma has two major batting records in cricket. He is the current opening batsman of the Indian cricket team in all three formats. Rohit Sharma is the only batsman who scored Three double centuries in ODI cricket. Also, he holds the record of the highest individual score, which is 264 against Sri Lanka. He scored two double-century against Sri Lanka, and one is against Australia.
AB DE Villiers. AB DE Villiers is well known South African batsman who scored the fastest century in ODI cricket. When he ended his international ODI cricket career, he scored 9577 runs at an average of 53.50. he is also popular by the name of MR 360 in cricket. He also holds the record for fastest 150 runs in ODI international cricket.